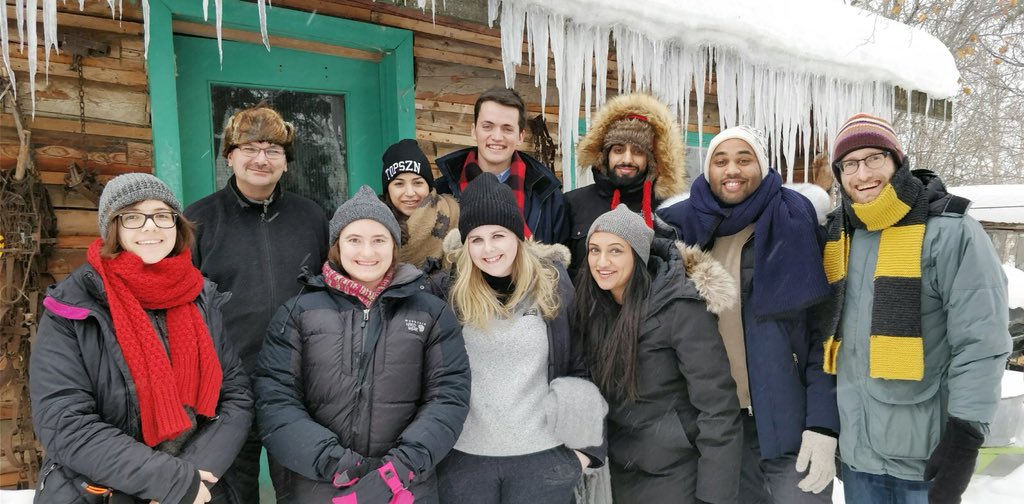 The Northwest Territories are unique among Canada's three territories in that it has an almost equal split in its population between Indigenous and settler peoples. The relationship between and within these two groups is complicated by the population distribution: the 32 remote communities are most overwhelmingly indigenous, whereas most Yellowknifers are descended from settlers or moved to the NWT from southern Canada. Furthermore, the NWT is a dynamic and evolving environment for government. As Dene, Inuit, and Métis Nations negotiate and implement comprehensive land claims with the government of Canada, some observers suggest that the governance structure of the NWT increasingly resembles a "federation within a federation."
As part of our OLIP cohort's commitment to better understand and contribute to the hard work of Indigenous Reconciliation in Canada, and to hear from diverse First Nations, Métis, and Inuit voices about their own experiences, we were eager to take full advantage of our trip to Yellowknife. Although visiting Yellowknife to learn about the NWT is akin to visiting Toronto to learn all about Ontario, we were fortunate to speak with many people about the challenges (and unique opportunities) for governance in the north.
One of the first meetings we had in Yellowknife was with Shaleen Woodward, Acting Deputy Minister of the Department of Aboriginal Affairs and Intergovernmental Relations. Ms. Woodward began by noting how it was appropriate that these two portfolios were united in one department. The Government of the NWT recognizes that working with Dene, Métis, and Inuit communities must involve a respectful intergovernmental approach. For example, Ms. Woodward explained the importance of joint resource management boards, including government and indigenous representatives, which understand and are sensitive to indigenous relationships with the land. Consultation must be a proactive and collaborative approach to succeed.
A major problem in the north is the difficulty of capacity in government and policy resources. The NWT has many structural and systemic barriers to building capacity, but also contains a plethora of overlapping regional, local, municipal, and band governments for a very small population. Many positions on boards and councils are all held by the same people in a community. However, self-government is central to the process of reconciliation; many Dene and Inuit people do not see their relationship to be with the GNWT, or even the Canadian Government, but with the Crown. Yet both sides seek to build strong working relationships; in some cases, regional tribal governments prefer to upload some services to the GNWT, making for a complex and ever-evolving legislative system.
At the end of our trip, we were also delighted to be welcomed by Scott McQueen and his family to his cabin in Yellowknife to share a delicious homemade meal and learn about the traditional land economy of the Dene and Métis peoples of the NWT. Mr. McQueen talked at length about his family's experience with the cultural tourism industry, bringing visitors to the NWT to understand traditional crafts and industries. Most important for the animal-lovers among us, however, we mostly talked about sled-dogs – for hours! Using stories from his father's storied career in sled-dog racing, and from relatives over the years, Mr. McQueen and his family led us in conversations about how the traditional cultures and economies of the had changed over the past fifty years. One one hand, while sled-dog racing had become a high-profile and established sport, and a major tourism draw, the traditional uses of sled-dog teams for trapping, and the dog-team trap-line itself, has quickly passed away.
Trappers now use snowmobiles and modern outdoor gear; and traditional crafts have been reborn in the tourism and art markets. Frequently, however, the economic benefit from these industries is limited, and uneven from community to community. The renewal and teaching of these traditional industries and crafts, however, have pivotal importance to the cultural, spiritual, and communal identity of Dene, Métis, and Inuit peoples. They have an irreplaceable role in the future of the NWT.
We deeply appreciate the warm welcome we received on the traditional lands of the Yellowknife Dene, and to all of the nations whose languages are written on the walls of the Legislative Assembly to bless and greet visitors from near and far. We hope to bring the passion and dedication for Reconciliation we found in the NWT back to Ontario and into our own lives.